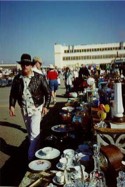 Född
28 sep 1948, Alameda, California539
Yrke
antikvariat och reservdelar till veteranbilar sedan 1980.
Notis för Robert Beach Wiren
Bodde i Oakland, California. Huset som han bodde i har varit i släkten sedan 1919.
Ogift.

Brev från Roberts kusin Kathy Hodges 26 oktober 2007:
Robert's father, Milton Wiren, became estranged from his mother (Frances Wiren) and his sister (Elois Wiren Spencer) in the early 1960s.
So Geoff and I did not grow up knowing the family.
After Frances died in 1988, Milton established an occasional letter and phone call correspondence with me. Robert continued that after his father's death in 1994 and his mother's death in 1996.
Around 2001-2002, I stopped hearing from Robert. Phone calls to his house did not go through. Letters went unanswered.
Finally, in August of 2007, I discovered some information using databases that I have access to at work.
After a few phone calls and emails, I learned that Robert had been in the process of selling his house in Oakland in late 2001. He was reported missing in January of 2002. His body was discovered in July of 2002 in a storage area that he rented.
His death was ruled an accident. It is believed he was working in the storage area, fell, and boxes fell on top of him.
Unfortunately, since I just learned all this in 2007, I am having trouble tracking down what happened to his possessions.
We're still trying to learn more about what happened, and will let you know what we learn.